Managing Customer Relations (module CRM)
CRM module is a web-based module that allows remote access to work. It works closely with the entire system Atlas ERP, which in turn ensures rapid retrieval and presentation of flexible reports from the information collected.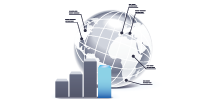 This module can be setup and implemented as a standalone product - see detailed product description of Atlas WebCRM.
Key benefits of Atlas CRM
Flexible system for planning and reporting activities of each employee.
Opportunities for quick planning of the tasks, with optional use of personal or common patterns of actions which are often perform for specific groups of customers.
Ability to easily create and manage marketing campaigns.
Numerous and deep analysis of the information gathered - success in different activities, effectiveness of implementation and others.
Easy management of access rights - access levels in the system are based on different roles defined and association of the users towards them. Roles reflect the level in the hierarchy of the respective department / user and their permitted levels of access for filling and editing information.
Simple interface that allows rapid deployment and rapid initiation of user experience with the system. Atlas CRM module has a contextual help system that provides comprehensive and updated information at any point of the system.
Atlas CRM is a web based solution.