Pharmacy project IMS Health Bulgaria
09.12.2013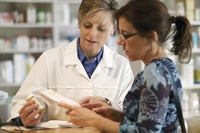 Supported by Bulgarian Pharmaceutical Union and the Association of owners of pharmacies For more information please send us an inquiry. Our consultant will contact you.
Pharmacies involved in the project to date:
over 560 pharmacies
IMS Health is the world's first and the biggest consulting company specialized in the healthcare sector, with particular focus on the pharmaceutical sector - from market research to complex business consulting. IMS Health operates in Bulgaria since 1993 and collaborates widely with all stakeholders in the pharmaceutical sector - producers of medicines and OTC products, wholesalers, pharmacies, hospitals, doctors and health insurance funds.
IMS Health has launched a new project to build an expanded pharmacy panel for statistical and market analysis at the end of 2013. Based on a representative sample of pharmacies and through the software companies serving them, IMS Health Bulgaria summarize information on sales to end customers. Receiving reports is fully automated without the necessity of human intervention.
Benefits for pharmacies are detailed feedback reports and analysis of their own sales towards the region and at national level, which allow greater efficiency, higher financial performance and better use of pharmacy software.
Software partners are: Alcor (Pharma Pro), Application Software Systems (PharmaStar), Click (Click Drugstore & Pharmacy), Libra (Pharmacy Expert and Pharmacy Central), SIS Technology (POS Master) and others.